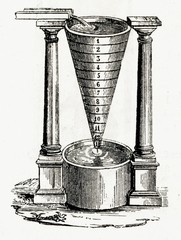 Around 325 BC,
water clocks
began to be used by the Greeks, who called this device the clepsydra ('water thief').
Water clocks are one of the oldest time-measuring instruments.
The bowl-shaped outflow is the simplest form of a water clock and is known to have existed in
Babylon
and in
Egypt
around the 16th century BCE. Other regions of the world, including
India
and
China
, also have early evidence of water clocks, but the earliest dates are less certain.